Settings/System
From XBMC4Xbox
General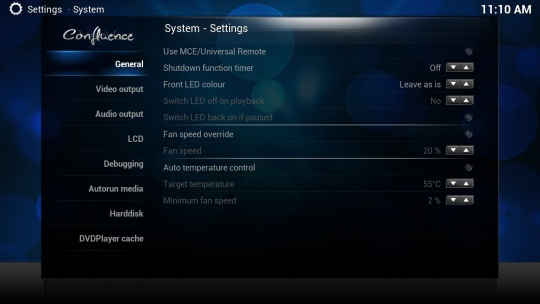 Use MCE/Universal Remote

Change the remote mapping to work better with the Media Center Extender remote or a universal remote, such as not mapping 3/6 to volume control but number input which can be used for things like skipping to a specific point within a video.

Shutdown function timer

Will cause XBMC to automatically power off the Xbox after a specified amount time of non-use.

Front LED Colour

Controls the colour of the front LED on your Xbox eject button. The available options are Off, Green, Orange, Leave as Is and Cycle (the system will cycle through the colours).

Switch LED off on Playback

Causes the system to automatically shut off the front LED when certain Media is played back.

Switch LED back on if paused

This option turns LED back on when in pause mode, if previous option is turned on. The available options are:

No
Music Only
Video Only
Music & Video

Note: If you have set the Front LED Color to "OFF", then also your LCD-Display will be turned off!.
---
Fan Speed Override

Allows you to manually set the Xbox fan speed

Fan speed

The speed to set the fan from 10% to 100%, allowing your system to run more quietly. Be carefull not to set it too low or it could cause overheating of the Xbox. The fan will restore to the default speed (set in your bios) when starting another application or games.
---
Auto Temperature Control

When enabled XBMC will try to keep the temperature of the Xbox around the target temperature you set. If your Xbox is cooler than the set temperature the fan will gradually slow down until that temperature is reached. If the temperature gets higher then the fan speed will increase trying to keep it around the set temperature. The fan will restore to the default speed (set in your BIOS) when starting another application or games.

Target Temperature

This is where you specify the desired temperature for Auto Temperature Control.

Minimum fan speed

The minimum speed the fan should be allowed at during Auto Temperature Control.
Video Output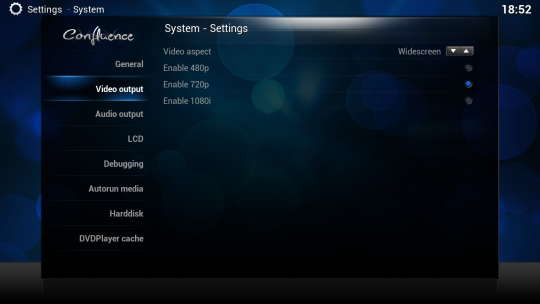 Video Aspect

Allows you to select between 4:3 and 16:9 aspect ratio.

Enable 480p

Enable 720p

Enable 1080i
Audio Output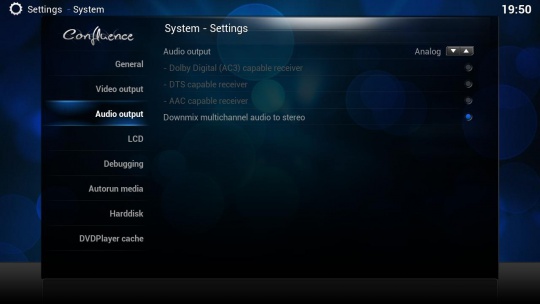 Allows you to select between Analog and Digital audio output.

- Dolby Digital (AC3) capable receiver

Select this option if your receiver is capable of decoding AC3 streams.

- DTS Capable Receiver

Select this option if your receiver is capable of decoding DTS streams.

- AAC capable receiver

Select this option if your receiver is capable of decoding AAC streams.

Downmix multichannel audio to stereo
LCD
Enable LCD/VFD

Enable LCD support and set the type of LCD display installed in your Xbox. If you set the wrong LCD Display here it will result in the improper display of characters on your LCD

Modchip

The type of Modchip installed in your system. Currently, XBMC offers LCD support for SMARTXX, Xecuter3 and Xenium

Backlight

Adjusts the brightness of the LCD backlight

Contrast

Adjusts the contrast of your LCD display

Dim LCD on Playback

Dim LCD on Paused
Debugging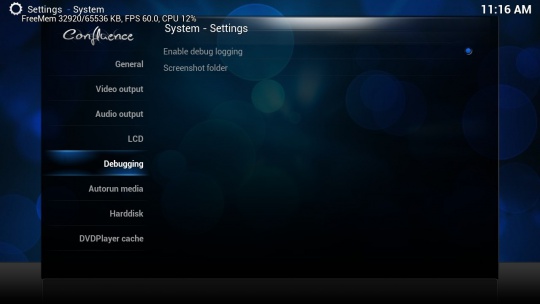 Enable debug logging

Toggles debug log on / off. Useful for troubleshooting.

Screenshot folder

The local folder to save screenshots to.
Autorun media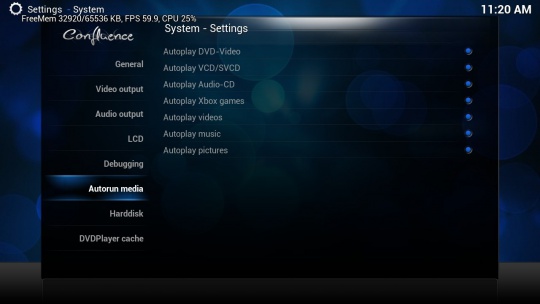 Causes XBMC to automatically launch content from media inserted in the DVD Drive. The available options are: Autorun DVD-Video
Autorun VCD/SVCD

Autorun Audio-CD

Autorun Xbox Games

Autorun Video

Autorun Music

Autorun Pictures
All options are turned on by default.
Harddisk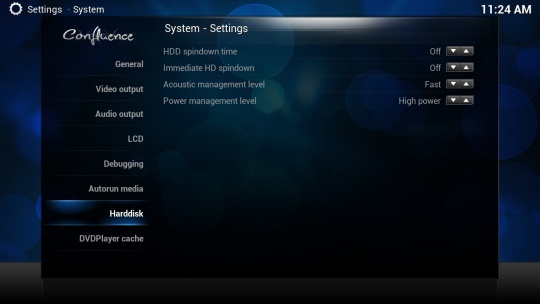 HD Spindown Time

Allows you to set the amount of idletime in minutes XBMC will wait before it spins down the harddisk. This will reduce the noise of your XBOX a bit and decreases heat buildup. Please note that it takes 5 to 10 seconds before the harddisk is fully operational after a spindown. This causes XBMC to halt and wait for the harddisk to pick up. It is not advisable to have a short spindown if you play a lot of music files as your harddisk can't be in sleepmode (spindown) when it reads an ID3 tag, therefore it will have to restart with every new song. You can set this option in one minute intervals from disabled to one hour.

Immediate HD Spindown

Will enable the harddisk to spindown (almost) immediately when playing files from a network.

Set it to Off to disable this
Set it to Music Only to enable this feature when playing audio files. ( NOT RECOMMENDED )
Set it to Video Only to enable this feature when playing video files.
Set it to Music & Video to enable this feature for both audio and video files ( NOT RECOMMENDED )
Accounstic management level

Set the Automatic Acoustic Management (AAM) for the harddisk (Fast or Quiet operation)

Power management level
DVDPlayer Cache
Sets the DVDPlayer Video/Audio queue sizes. In most cases these values should be left alone.
MPlayer Cache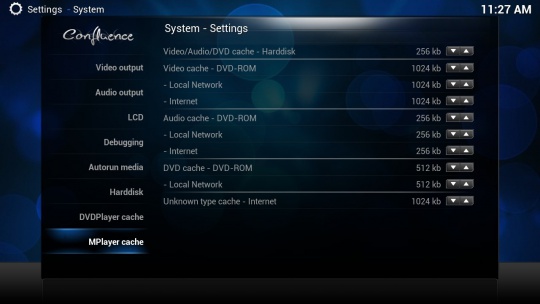 NOTE: This only affects MPlayer which is not longer the default player and should be considered deprecated.
Allows you to control the amount of information that is cached in the system's memory when playing specific types of media from different locations. Do not set these values too high, as they will consume too many system resources and adversely affect playback.
The cache settings are divided into types and locations so those two pieces of information determine what cache is used.
The types are:
DVD's (including ISO's and VIDEO_TS.IFO files)
all other Video files
Audio files
The locations are:
Hard Disk and DVDROM are the local Xbox hard disk and DVDROM drives.
Internet applies to http, https, shout, mms, http, rtsp, rtp, udp, lastfm
Local network is for the remaining protocols (smb, xbms, ftp, etc.) and where an Internet option is not available.
The Internet - Unknown cache is special. It's only used when Xbmc cannot determine if the stream is video or audio.
Master Lock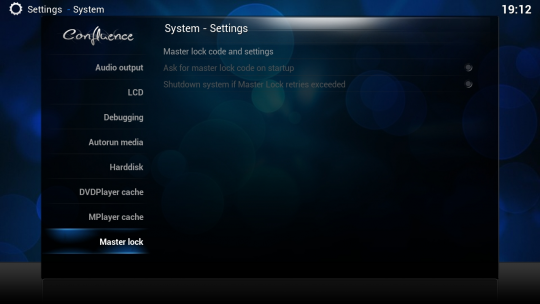 NOTE: The Master Lock options are ONLY available while using the Default User profile
Master lock code and settings

Opens The Master Lock Dialog, where you can configure your Master Lock options.

Ask For Master Lock Code on Startup

If enabled, the master lock code is required to unlock XBMC on startup

Shutdown Xbox if Master Lock Retries Exceeded

If this option is enabled, XBMC will shutdown your Xbox after the maximum number of password attempts has been reached.