[UPDATE|Aug 19/2013]
Version -1.1.0 is out, many code changes for better xbox compatability and Frodo art and show information, Most notable feature is the next page button in the Latest TV Show feed section
Remember xbox version wont support full metadata support so please leave it disabled in plugin settings
Details can be seen here
http://code.google.com/p/kozz-addons/
[UPDATE|July 07/13]
Ok guys I've found time to update the addon some more, but the changes will not be too visable from the xbox, My focus this time was to deal with the metahandler parts mostly under mainbranch xbmc, It fetches nice high res thumbnails and caches them now from under all sections, I've also managed to find a workaround that keeps the title and episode of the show your watching in the gui. And lastly you can stop and resume your stream, it will keep the resolved direct link in your menu after the show ends or if you press stop untill you go back to the source list. Finally I have also done away with keeping 2 versions, Now I have just the single videobull addon that is capable of running on all xbmc platforms, however you must keep the metadata setting disabled on the xbox. You might also need to go into the Resolver Settings and disable realdebrid and APnet if you are getting script errors when trying to play putlocker/sockshare sources.
Thats all for tonight
Enjoy
Version 1.0.0 is now available from the addons4xbox installer
[UPDATE|June16/13]
VideoBull - 0.2.9
I've begun to re-write the VideoBull plugin to make it a little more modern and try to include things like displaying the title of the show during playback etc, But for the meantime I have pushed an updated version with a couple minor updates, You can now access the Resolver Settings from the main menu and you will want to Disable the "Realdebrid" AND "RPnet" resolvers to get Putlocker / Sockshare sources to play, you can change the settings from the [removed] resolver settings menu too it does not matter the resolver settings stay set the way you want across all of the plugins that access it.
The other change was just to delay the call to import the urlresolver until the plugin actually needs it to play a source, This greatly improves performance in launching the plugin and browsing the listings
So just a small update for everyone now until I can afford more time to polish it further
Enjoy

[ORIGINAL POST]
Here it is I had some time to work on this over the weekend,
This is my first attempt at creating my own xbmc addon (besides xmanRadio)
I'd like to know how it works for people here, leave some feedback or suggest improvements,
Try it out and let me know what you think so far

VideoBull -0.2.3
-Latest Added Shows feed works and is constantly updated by the site very often
- Search for shows works
- A-Z Listings works
For XBOX Install:
It is now available in our xbmc4xbox repository and can be installed from the Addons4Xbox Installer
(See here for instructions
http://www.xbmc4xbox.org.uk/forum/viewt ... ?f=7&t=897
)
For install on Frodo/Main xbmc (windows, linux, mac, atv, ios, Android, Raspberry Pi):
must first download my repository .zip and install it from there.
https://kozz-addons.googlecode.com/file ... -2.0.8.zip
Just download that zip, then from xbmc go to:
settings > addons > install from zip file
, then choose this zip (usually in C:\users\[windows user]\Downloads )
once my repo is installed just go to: settings > addons > get-addons > kozz addons > video addons > VideoBull, then choose install
You need to install it this way from my repo so the required modules are installed too, and when I push updates your windows build will auto-update to the latest VideoBull version

Here is a Video on how to install on Main xbmc/frodo:
Good Luck, let me know if it works for you

Looking forward to comments
Enjoy

Screenshots: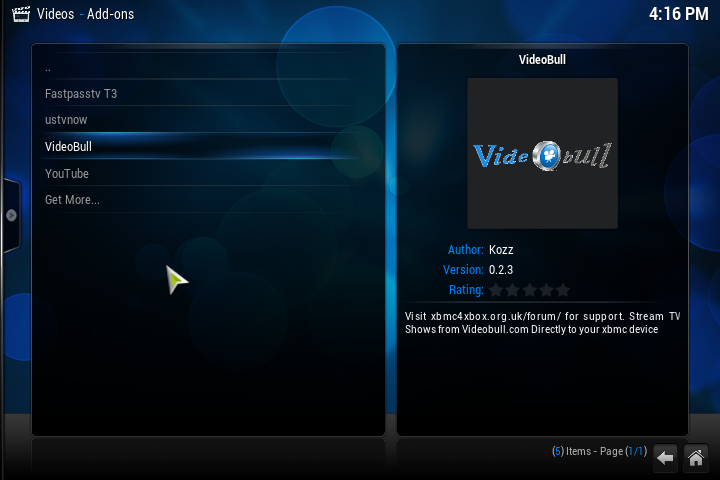 :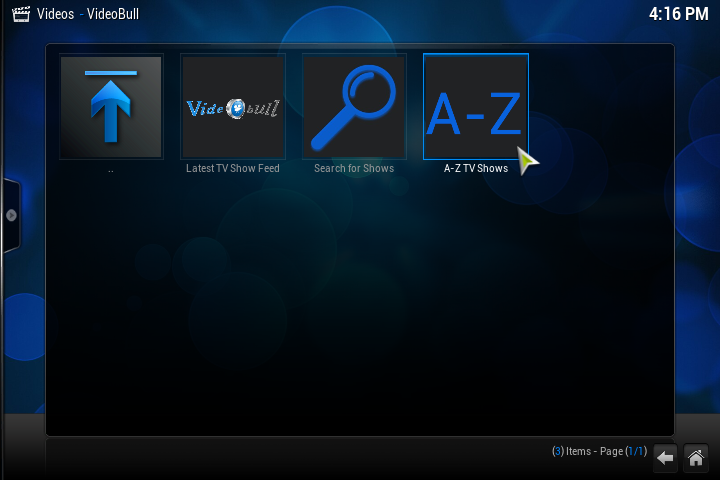 :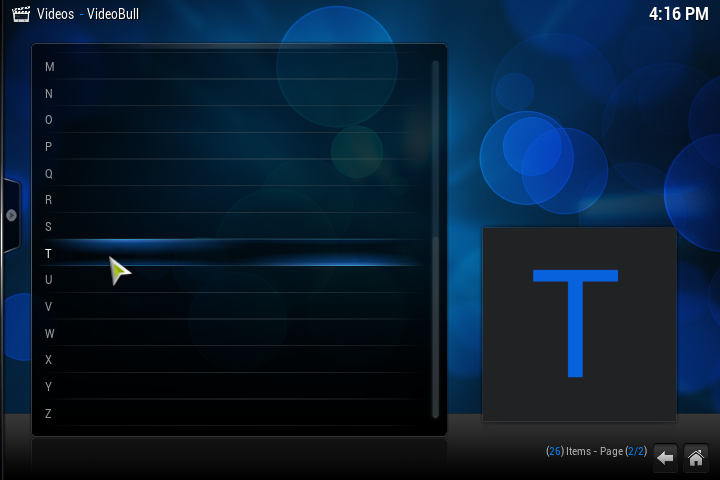 :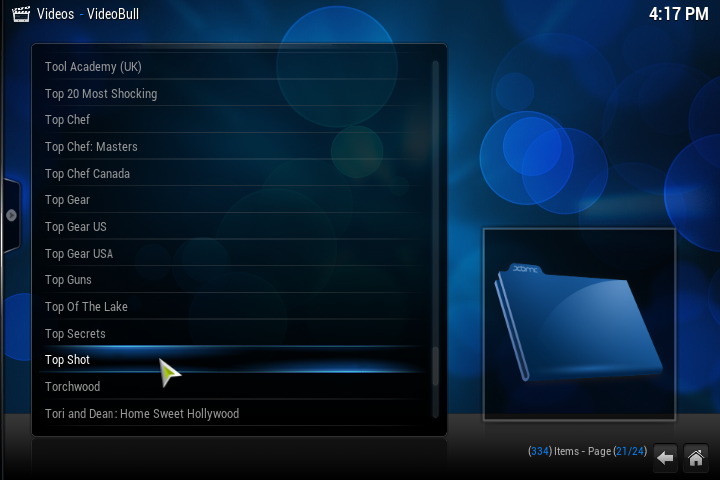 :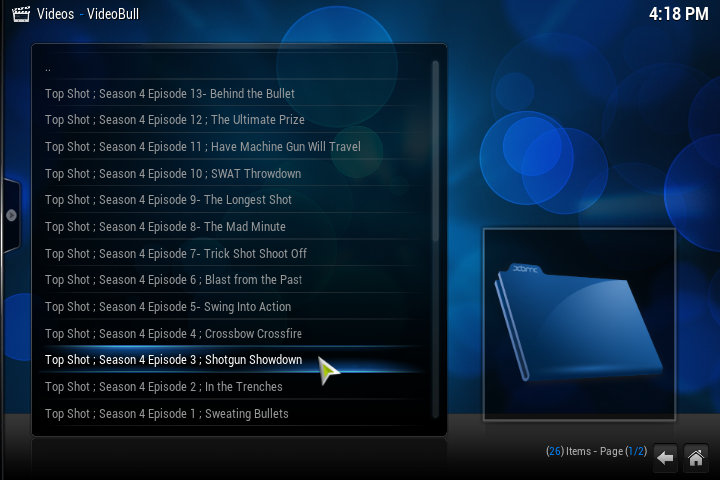 :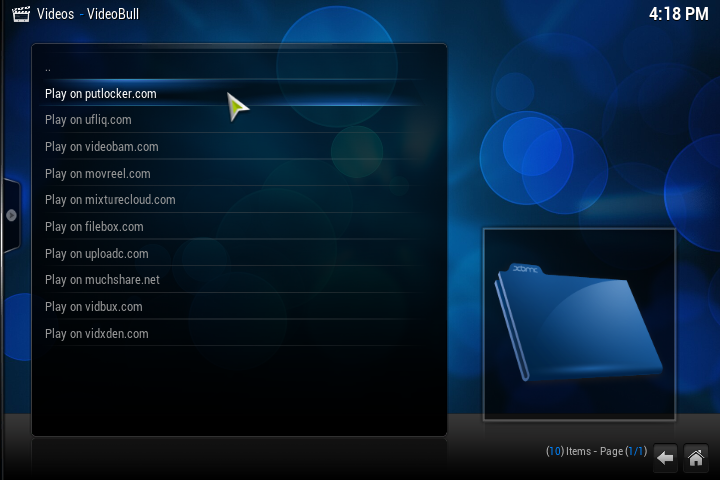 :